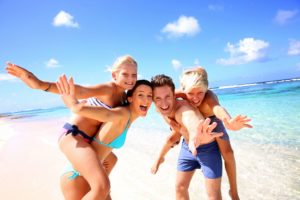 Do you have a graduation, a wedding, or a vacation this summer? Are you going anywhere where someone might have a camera? This can be difficult if you're not comfortable with the way your teeth look. You might spend more time dodging the camera than enjoying yourself! Thanks to a dentist in Chittenango, you don't have to worry. Here are some ways you can get your smile ready for summer and gain the confidence you deserve:
Porcelain Veneers
Porcelain veneers are ultra-thin sheaths designed to sit on the front surface of your tooth. They are custom-made to fit the shade of the surrounding teeth, making your smile look uniform. They can be used to fix a few minor problems, such as:
Discoloration or stains
Gaps between teeth
Chipped or cracked teeth
When properly cared for, veneers can last for up to 10 years. You'll have a photogenic smile for your next 10 summer vacations!
Metal-Free Restorations
You don't want your restorations to be noticeable. That's why ceramic restorations are a great alternative to metal. With the advanced E4D software in our office, we can create a personalized restoration on the same day as your appointment. You can go straight to a graduation from your appointment, and have a beautiful smile for all the family photos!
Direct Bonding
Direct bonding is a fast and affordable way to fix multiple cracks, chips, or discoloration in one appointment. Your dentist will use composite resin, made to match the current shade of your teeth, to help restore your smile. You can feel good as new in just a day!
Teeth Whitening
Maybe you don't have any cracks or chips in your teeth, but you wish they were whiter. Years of staining have made them appear dull. Over-the-counter whitening kits often don't provide the results you want. That's why we offer tooth-whitening treatment to get your smile in tip-top shape for the summer!
We use Opalescence Boost to get your smile looking several shades whiter in just one trip to the office. If you'd rather whiten your teeth in the comfort of your own home, we also have Opalescence Go take-home whitening kits guaranteed to deliver the results you need.
Smile Makeovers
If you have multiple issues with your smile, it can be hard to figure out where to start or which treatment is right for you. In that case, it's best to schedule a consultation with your dentist to figure out the best way to meet your needs. Whether you only have one tooth you'd like to fix, or you want a complete mouth restoration, your cosmetic dentist can help you get your smile summer-ready!
No matter what kind of events you'll be attending this summer, you'll want to look your best. Weddings and graduations are great for making memories, and you don't want to taint those memories by being ashamed of how you look. Even if you're just having fun in the sun, you can rest easy knowing that your smile looks its absolute best.
About the Author
Dr. Ahmed Badawy became a dentist because he loves making people smile. He is passionate about helping people improve their smiles every day. He is also interested in continuing education courses to deliver the absolute best care that he can to his patients in the Chittenango, NY area. If you would like to know how Dr. Badawy can happily help you achieve the smile you've always dreamed of having, click here or call (315)-687-3386.