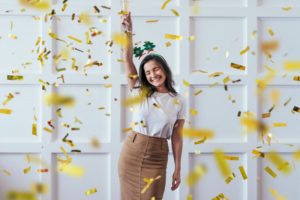 Have you made your list of new year's resolutions for 2020 yet? If so, did you include some goals to help you feel more confident and comfortable with your appearance? Investing in your self-esteem and smile are priceless, which is why it's worthwhile to schedule a consultation with your cosmetic dentist in Chittenango to learn how you can transform your grin into a trait that you're proud to show off. Read on to learn about three treatments that can make your new year more memorable.
Invisalign Orthodontic Treatment
Having teeth that are crooked, misaligned, and crowded doesn't just impact your self-esteem. Orthodontic issues can make it harder to remove plaque and food debris from your mouth because they create several hard-to-reach nooks and crannies. In the past, straightening teeth meant having to get metal brackets and wires permanently placed in your mouth for years at a time. Now, plastic aligners that are custom-crafted to comfortably fit over your teeth can be used to gently nudge your pearly whites into their ideal positions.
The average Invisalign treatment lasts between eight and 14 months, which is shorter than traditional orthodontics. Not to mention, their removable convenience will allow you to easily maintain great oral health while you're wearing your aligners because all you have to do is take them out to brush and floss your teeth. After your treatment, you'll be able to enjoy beautiful and long-lasting results that'll make you feel more confident!
Teeth Whitening
As you age, you may notice your teeth begin to develop a yellow or brown tint over them. This can be caused by several factors, including consuming stain-causing foods and beverages, certain medications, and bad oral habits such as smoking. Fortunately, you don't have to accept that your smile won't be bright and beautiful. With professional teeth whitening from your dentist in Chittenango, you'll be able to quickly achieve a beautifully brightened smile.
In a single hour-long appointment, your cosmetic dentist will use highly concentrated whitening gel that's completely safe for your mouth to break apart pesky surface stains. After multiple 20-minutes applications, you'll be able to enjoy your results without experiencing post-treatment sensitivity or discomfort caused by certain store-bought kits.
Porcelain Veneers
It's time to leave the slew of cosmetic flaws that litter your mouth in 2019 and transform your grin with porcelain veneers in 2020. This procedure is incredibly versatile and can fix problems such as:
Minor misalignment
Gaps between teeth
Crowded teeth
Misshapen teeth
Severe discoloration
Dental damage
Over the course of two appointments, your cosmetic dentist will construct customized porcelain shells that are made to cover the visible surface of your teeth to conceal one or all of the imperfections listed above. Whether you have a single tooth that's ruining your grin or you'd like to remodel your entire smile, porcelain veneers can do it all.
The best way to celebrate the new year is to make a commitment to boost your confidence in 2020. By getting rid of pesky problems like misalignment, discoloration, and dental damage, you'll be able to feel proud to show your smile instead of self-conscious.
About the Author
Dr. Ahmed Badawy has over a decade of experience improving his patients' smiles. He offers a variety of cosmetic treatments, including Invisalign, dental bonding, and complete smile makeovers, to list a few. He is passionate about advancing his training and mastering skills, which is why he has taken additional education courses in CAD/CAM technology, Invisalign, and sedation dentistry. For questions or to schedule a consultation to learn how you can earn the smile you've always wanted in 2020, visit Chittenango Family Dental's website or call 315-687-3386.